We put together an extensive analysis of the world's airline low-cost market. Discover interesting figures, an analysis of the pandemic, plus a ranking of the world's top 10 low-cost airlines.
The World's Top 10 Low-Cost Airlines
We have seen a transformation in the traveling behavior since the pandemic initiated. Air travel demand and capacity have reduced by 57.0% and 42.7%, respectively, worldwide. As we can see, some regionals have been more affected than others, while some regions show a slightly faster recovery. 
However, it seems that the tourist travelers are more willing to retake their plans as soon as the regulations appear to be more flexible. According to a study from McKinsey in previous recessions, business travel proved to be more volatile and had a slower recovery than leisure. We all know tourist traveler is usually focused on price and therefore, there's a tendency to consider low-cost airlines for the travel plans. A good example is during the financial crisis of 2008-2009, corporate travel reduced by 13%, while leisure travel only had a decline of 7% in the United States. The recovery was also faster for leisure traveling taking approximately two years, while corporate travel took roughly five years to rebound. 
Corona's Impact on Low-Cost Airlines
On the other hand, a study realized by the CAPA shows the tendency since COVID-19 started with low-cost carriers having a higher number of passenger jets in service than legacy carriers, especially during the summertime where traveling rules were more flexible. Even with the third wave at its highest moment, we can see that low-cost airlines have a slightly higher percentage of the fleet in service during February than full-legacy carriers for the Europe region.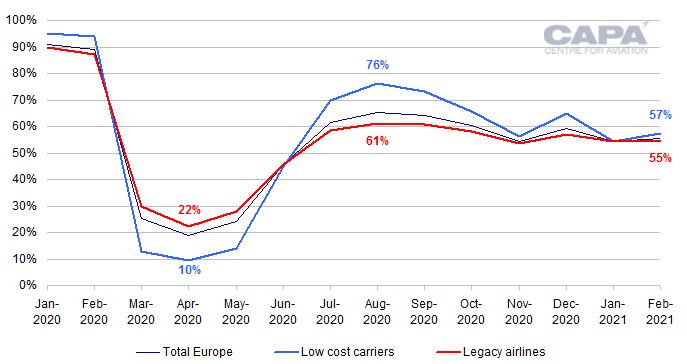 Additionally, some post-pandemic factors might shift the air travel consumption to the low-cost models. According to a survey performed by Global Data with more than 5,500 participants, more than 87% of travelers are concerned with their finances, and therefore, it is more likely low-cost carriers can meet these needs.
Therefore, passengers willing to travel should know which are the best low-cost airlines they can consider retaking their leisure trips, according to the Luxury Travel Expert.
The World's Top 10 Low-Cost Airlines
#10 — IndiGo
Despite the current situation in India regarding COVID-19, the airline had a market share in India of 53% as of December 2020. The market focus is domestic, although it covers some international destinations such as Amsterdam, Paris, Singapore, Dubai, Kuala Lumpur, etc. The airline offers three main aspects: low fares, hassle-free experience, and punctuality. We can link the last two pillars to three of the KPIs we mentioned in our previous post, reliability, regularity, and punctuality. They offer the possibility to do unlimited changes free of charge to their travelers due to the current situation. Furthermore, the 'Plan B' policy allows the passenger to cancel or reschedule without additional cost if the airline modifies the flight. On the other hand, punctuality remains a crucial aspect for this airline, which with the appropriate tools, could be tracked by passengers in real-time or through ex-post behavior. 
#9 — Eurowings
The large number of destinations covered by Eurowings allows the passengers to have a vast network in more than 210 destinations around more than 60 different countries. The airline has a hybrid model where they can offer from the essential services of a low-cost carrier to the business class services from a full-legacy adjusting the fares to every passenger target need. Currently, IndiGo focuses on showing reliability to their customers by allowing flight changes free of charge and constantly providing information about their flight schedule in case cancellations occur. 
#8 — Southwest Airlines
Considered the US's largest domestic airline and the world's largest low-cost carrier, it offers a point-to-point, non-stop route network for both leisure and business travelers. Like IndiGo and Eurowings, Southwest doesn't charge fees for flight rebooking, a critical aspect for passengers during COVID-19 times. Another additional advantage of Southwest, especially in comparison to all other low-cost airlines, is that the first two checked bags are free of charge. One final characteristic of this airline is punctuality.
#7 — Azul Brazilian Airlines
Latin America has been one of the most impacted regions by the pandemic, including the financial aspect. Especially Brazil with the new COVID-19 mutation. However, to incentivize travelers to continue with their travel plans and not worry about their finances, they offer a unique business paying model under Uplift's concept: Travel Now. Pay Over Time, where travelers can pay for their flights at monthly rates. Of course, these benefits are subject to certain conditions. However, these payment methods open the window of opportunity for more travelers to retake their plans sooner than expected. Additionally, the airline is known for its free in-flight entertainment system, ample legroom, complimentary beverages and snacks, and a free bus service to key airports.
#6 — EasyJet
One of the main advantages of EasyJet is its presence in main airports. Travelers usually fear that they will arrive at a remote airport far away from their actual destination by booking a low-cost airline ticket. However, this is not the case with EasyJet. Additionally, airlines are becoming more restrictive with baggage policies even on board. However, in EasyJet, there's no weight limit even though there are size restrictions. 
Top 5 World's Low-Cost Airlines
#5 — WestJet
Offers the lowest airfare in Canada. It has become the second biggest Canadian airline with increasing international presence introducing Boeing Dreamliner's to their fleet, competing directly with the Full Legacy carrier Air Canada. The airline's friendly staff is one of their main assets. For flights longer than 4 hours, they offer complimentary beverages and snacks (meals are available for purchase). In Long-haul flights, the passengers receive a two-meal service. 
#4 — JetStar
The carrier offers short and long-haul destinations, offering a hybrid business model such as Eurowings and WestJet by offering a Business Class and Frequent Flyer Program. During the pandemic, the airline has implemented the concept of flying with all the flex you need to support passengers whose travel plans have been affected due to border restrictions by providing multiple options not to lose the booking. To inform the passengers about the safety conditions and constantly informing passengers about travel restrictions, they have set a JetStar COVID-19 Help Hub with a virtual assistant to answer all travelers' questions regarding their trip and the pandemic. 
#3 — Norwegian
The first airline to join the UN Climate Secretariat's climate action initiative in 2019, with the expectation of becoming carbon neutral in the long run. The airline is working on its new strategy for the post-pandemic time where it will focus on the Nordic market operating to main cities within Norway, Denmark, Sweden, and Finland. Before the pandemic, the airline had an excellent reputation within the European market for friendly staff, free Wi-Fi, flexible hand luggage rules, and very creative marketing campaigns. 
#2 — AirAsia
The airline offers around 160 destinations across Asia, Australia, Middle East, and the US. The airline has won for 11 consecutive years the Skytrax best low-cost airline and for eight years in a row the World Travel Awards as World's Leading Low-Cost Airline. One of the most mentioned characteristics is the affordable in-flight food. As low-cost carriers charge for drinks, snacks, and meals, AirAsia provides these services at reasonable costs. The modern fleet also provides a sense of safety and comfort to travelers. The main objective of the airline is to allow those who once believed impossible to fly to reach their dream under their concept #EveryoneCanFlyNow.
#1 — JetBlue
Jet Blue can be considered by travelers the best mixture between both worlds (low cost and full-legacy). They offer affordable prices, while at the same time offering a modern in-flight entertainment system with seatback screens in every seat, free on-board Wi-Fi, free snacks and drinks under the brand name and for those looking for a more luxurious experience there's also the possibility to fly on business class. Another vital aspect mentioned by many travelers is the legroom in economy class. The airline also focused on smaller aircraft to reach destinations where the competitors such as Southwest and Frontier didn't have any presence. The airline has not ceased its expansion plans during the pandemic, and it has opened 62 new routes. 
During this investigation, I was surprised to see that one of the biggest low-cost airlines globally, Ryanair, was not mentioned in the top 10. However, we often see that punctuality and customer service are not one of their main assets, which may differ from the other low-cost mentioned on the list.
With the vaccination process improving and more people getting vaccinated, the hope of traveling during the summer season increases for all of us. Therefore, travelers expect to have all necessary information in hand, as transparent as possible, to proceed with their travel plans. 
The World's Top Low-Cost Airlines — What's Your Opinion?
We are always happy to receive your feedback! Leave us a comment below or share your thoughts on social media!
Sources:
The Luxury Travel Expert. Top 10 Best Low-Cost Airlines in the World. January 18, 2021.
Hayward, Justin. Simple Flying: The Rise of JetBlue: How and Why the Airline is Winning. February 24, 2021.
Global Data. Low-cost Airlines will Lead to Post-COVID Recovery. February 22, 2021.
CAPA- Centre for Aviation. European Aviation. Seats and Fleets Point to 2Q2021 recovery. March 05, 2021.
Curely, Andrew; Garber, Rachel; Krishnan, Vik; Tellez, Jillian. McKinsey & Company. For Corporate Travel, a Longe Recovery Ahead. August 13, 2020.
IATA. Pressroom. Press Release No. 24. Reduced Losses but Continued Pain in 2021. April 21, 2021.